Services
We provide cost effective and high quality services in the area of custom software development, CRM, ERP, E-Commerce, Mobile applicatons, Automation & Integration and Web applications. Leveraging our varied domain knowledge, technical expertise, knowledge on latest industry trends and effective delivery model, we offer top quality and reliable software development services at affordable cost.
We have highly qualified and experienced team of software professionals with varied domain knowledge and expertise. We develop the applications tailored to the client's specific business requirements. We deliver rich internet applications combining our solid cross-domain experience, technological expertise and an established development methodology.
Languages and Technologies
Python, C#, C++, AngularJS, NodeJS, JQuery, Javascript, Java, Swift, PHP, Django Framework, .Net Framework, ASP.Net Core, HTML5, WordPress, Drupal
Databases
MS SQL Server, MySQL/MariaDB, PostgreSQL, DB2, Oracle, MongoDB
Web Servers
Apache, Tomcat, IIS8.5/10, Mongoose
Cloud Servers
Microsft Azure (Azure), Amazon Web Services (AWS), Google Cloud Platofrm (GCP)
Application Development & Maintenance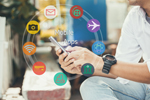 Our Custom Software Development Services leverage the technical expertise of our professionals who are empowered with latest technology software and tools, to offer customized applications of various flavours including business intelligence solutions, e-business solutions, custom application development and CRM solutions. With meticulously chalked out designs, our solutions can significantly save the annual budget of any organization by rationalizing the systems.
Drive efficiency and effectiveness with agile application solutions from us. Our proven methodology ensures you get products and solutions faster, at reduced cost and bets quality assurance. Our services have helped several help businesses create a networked enterprise by leveraging agile solutions and strategic thinking.
The application development includes developing the Innovative applications in various sectors aimed at automating the process, accelerating the speed, Assist in decision making etc.
Automation & Integration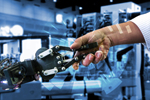 Amana's application integration services consist of data integration services, enterprise integration services, hardware integration and systems integration services. These application integration services will allow your enterprise to 1) update existing or legacy applications to "talk" to other applications, 2) integrate web-based features into older desktop applications and 3) collaborate with Amana's application integration services team to synchronize your business processes with technology making your organization more competitive and responsive to change.
Our automation software addresses a variety of industrial and manufacturing processes and delivers precise, real time data on industrial machine settings for process control and acquisition and analysis of data.
Our experience in manufacturing software development, software integration, remote monitoring, custom software development, and PLC integration improves employee productivity at manufacturing facilities. Often, improving manufacturing operations begins with PLC integration devices that can be accessed remotely. Through advanced software development techniques, it is possible to use a web browser as the human machine interface (HMI), providing much broader access to machine controls and monitoring. In addition to remote monitoring over the web, a data warehouse can be developed for reporting and business intelligence applications.
Cloud Hosted Solutions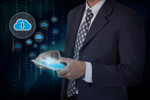 The future is in the Cloud. Cloud Solutions offers your company the future now!! Our services cover a range of cloud hosted solutions. We deal with small to mid-sized businesses who wants to migrate their business applications to the Cloud. Cloud Solutions provides migration and set up services to help our clients adopt the cloud with the minimum of distribution and cost.
Using cloud, companies can scale up as computing needs increase and then scale down again as demands decrease. Cloud computing had become a highly demanded service or utility due to the advantages of high computing power, cheap cost of services, high performance, scalability, accessibility as well as availability.
Infrastructure & Consulting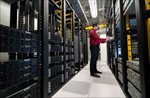 Amana offer reliable end-to-end IT Infrastructure Management Services to automate your own IT Infrastructure with today's needs & tomorrow's readiness. Our ideas are designed to proactively eliminate issues in IT Infrastructure and provide best-in-class IT infrastructure in the eco-systems of business. We monitor and manage all your mission critical servers, network & security appliances for its availability, utilization, and more per your requirement. We apprehend your requirements and cater to your specific IT infrastructure needs.
Our certified team of professionals will assist you to build and manage a secure and integrated IT environment. Our eminent service will help you to adopt industries best practices with considerably enhanced service levels. We consistently deliver high quality of services, which upsurge to competitive advantages for our clients, with our robust infrastructure and streamlined processes with our internal expertise. We help your businesses, free from stress to manage the rapidly changing technology needs.
Mobile Applications
We specialise in creating mobile applications that help you engage with your customers, increase internal productivity, promote new products and services, drive footfall to your business locations , create new revenue streams and ultimately increase your sales. To ensure the quality and consistency of the project, all teams are involved from the start to the end of the process. This will ensure knowledge sharing and testing of new ideas across competencies.
We work closely with you to understand your business, get in the heads of your audience and develop innovative products that will help you create results that surpass your expectations.