Industries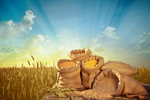 Technology has turned farming into a real business, now farmers have electrified every process, a consumer can place an order directly online, and the product will be transported from the farm to the consumer in time when it's still fresh. This saves the farmer money and it cuts out mediators who tend to buy low from farmers and sell high to end consumers. Every farmer can use this technology in their own way.
With the agriculture industry growing by leaps and bounds and the shift from farm to fork, we understand the challenges faced by the agriculture industry. From data gathering to forecasting and analytical services, Amana's technical solutions help in doing the business better, managing risks and thrives in this competitive marketplace.
Our Contribution - With the understanding of the real world needs, we are helping the farmers to increase their productivity and reaping methods using our customised solutions.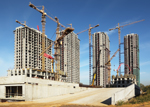 The act of building is a basic component of human activity. For centuries, humans have created structures, beginning with the simplest of huts to the most modern of skyscrapers. All along the way, construction technologies and practices advanced, and 2014 was no different. Future goals of the project include road paint that can react to temperature and in turn provide weather warnings to drivers.
Our Contribution - Our custom solutions can help in all the aspects of the building & construction into all the areas especially safety, development, monitoring, sampling, man management and so on.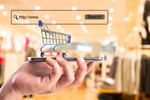 With the increasing web penetration and the upsurge in mobile usage, online shopping has become as easy as saying hello. Users are readily turning online in search of best deals. With ecommerce sites fuelling the electronic business, companies need the right tools and expertise to make the online experience a smooth, secure and engaging. We apply the best practices for a faster and secure user experience.
Our Contribution - With ecommerce driving the industry, companies need to respond to users faster and more effectively. We help e-tailers improve efficiency by driving continuous innovation. Our smart innovations deliver greater value faster.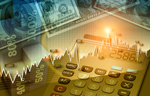 With a vast industry experience and deep expertise, financial companies are looking for data security and improved offerings to the customers. Amana, a leader in financial services offers innovative applications and technological solutions to meet the user's demand and ensure data integrity.
Our Contribution - Get the best possible solutions, from mobile to application development and testing from Amana. We have partnered with leading insurance companies and clients for application management, implementation, mobile and testing solutions. With a focus on delivering value and an emphasis on data integrity, our solutions will power the financial companies across the globe.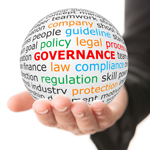 We have been the preferred partner for most Government projects. From providing cohesive solutions to rolling out new websites, government bodies have chosen us to help them work better. Over the year, we have helped many state bodies embrace the latest technology and reshaped them to help perform better in this competitive landscape.
Our Contribution - We been assisting government bodies keep pace with the changing technology, with our cutting edge solutions and identified new ways to connect with customers. From cutting edge enterprise applications to classy websites, we do it all.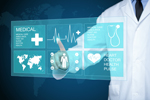 A leader in revolutionizing healthcare industry, some of the best healthcare organizations across the globe have partnered with us for meeting the diverse challenges of this industry. From managing patient data to converting it into actionable insights and cutting down healthcare IT costs with robust solutions, we manage it all.
Our Contribution - From mobile health solutions to easy-to-deploy, user-friendly apps, each day our team helps healthcare practitioners reach out to patients effectively and faster. Our applications help clinical staff make more informed decisions and share patient data in a secure manner. Some of our best work is powering the major healthcare giants and enabling them to reach out to patients and drive patient acquisition. When it comes to healthcare, there is no one better than MDCloud from Amana.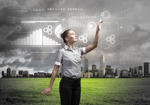 With the aim to deliver value to client and help clients do business better, we offer clients a gamut of services; making the best use of emerging technology and helping them perform better in this competitive environment. From strategic innovations, analytical solutions to mobility and consulting services, we are leading from the front.
Our Contribution - Armed with high-impact technological solutions, global expertise and deep experience we have the skills and expertise to meet your enterprise application and mobility requirements successfully. We identify the best solutions to help you thrive in this competitive and ever-changing business landscape.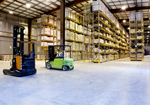 Logistics is generally the detailed organization and implementation of a complex operation. For any company that is in the business of providing a variety of products and services to consumers, it is of crucial importance to the health of that business to implement a logistics strategy that will help keep service levels at their highest at all times, no matter what changes might be happening in other areas of the business organization. This is an even bigger imperative for companies that are more complex in structure, or that may have a very fluid or fluctuating supply chain, or that have specific product lines, specific countries or specific customers to cater to.
Our Contribution - At Amana, we provide varierty of solutions starting from GPS live tracking, dynamic route planning, trip sheet calculations and much more. We have strong domain expertise which helped us to build a product for logistics industry.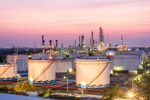 The oil and gas field has a lot to gain from better oil and gas software consulting, but players in the industry are often behind due to cost, difficulty of implementation or lack of expertise. But you shouldn't let these obstacles get in your company's way! Streamlining your company's software portfolio can result in more efficient employees. And integrating systems between departments helps eliminate information silos, because everyone is operating on the same information.
Our Contribution - We guide clients to their best business decisions by keeping track of their ever-changing set of regulatory, financial and strategic demands. Before we ever start architecting power and utility software solutions, we ask probing questions to get to the true business drivers at hand. We have consulted on everything from the granular details of drill bit depths to standardizing well metadata during larger corporate mergers. We've reduced the potential regulatory implications of laying joints of pipe for one client, while helping another implement a strategy for maintaining compliance with today's increasingly complex onshore land lease contract provisions.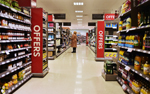 Rising consumer sentiment, a spike in purchasing power and the per capita income has seen a boom in the retail sector. In this highly competitive marketplace, excel with great technological solutions from Amana. From maximizing the customer experience to helping succeed across different channels, most leading retail giants have partnered with Amana for improving the shopping experience.
Our Contribution - We have set up SEO-friendly websites, custom applications and mobile apps that meet the shoppers expectations. We have helped several retail companies redefine the user experience and explore new business opportunities with our Retail Industry solutions.